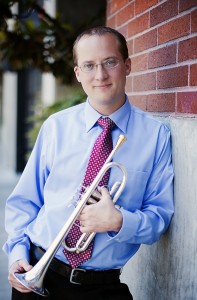 Casey Reeve, a native of Portland, OR, USA, began studying the trumpet at age 9 with Mr. Fred Sautter.  During his studies with Mr. Sautter, Casey received a full scholarship to study at the prestigious Boston University Tanglewood Institute in the summer of 2004.  Later, he continued his studies with the famed, now retired, Principal Trumpet of the Boston Symphony, Mr. Charles Schlueter.  At New England Conservatory, Mr. Reeve was actively involved in chamber music, orchestral music, and solo works, forming such ensembles as Nova Brass Quintet, winner of the CPP Fellowship, 2009-2010.  In the Boston community, Casey played regularly with the Epic Brass Quintet and was a member of the New England Philharmonic.  For a time, he also served as trumpeter for Son de America, recording two CD's with the group, the which is the leading mariachi band in the New England area.
Upon arriving in Cologne, Germany in the fall of 2010, Mr. Reeve has quickly established himself as a leading trumpeter in the area, frequently performing with such groups as the Beethoven Orchestra, Philharmonie Europa and Gürzenich Orchestra, with which he recently recorded Henze's 7th Symphony.  In the Spring of 2013, Casey received his Master of Music, studying with Professor Urban Agnas, from the Hochschule für Musik located in Cologne.
In the fall of 2013, Mr. Reeve started studying Baroque trumpet with Professor Friedemann Immer.  In December 2013, he was the winner of the Musikförderpreis des Lions-Club Köln-Colonia, playing on Baroque trumpet.  Mr. Reeve also teaches at the Music School in Hamm, Germany.