I must say I have been blessed with wonderful teachers who have helped me every step of the way and have given me not only a great example of how to play the trumpet, but how to be an upstanding, great man, such as themselves.  Not only do I have the privilege of calling these inspiring men my teachers, but also my close friends.
Mr. Urban Agnas, Years of study: 2010-2013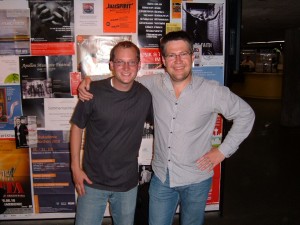 Urban Agnas has served as principal trumpet for both the Gothenburg Symphony Orchestra and the Royal Stockholm Philharmonic Orchestra.  Mr. Agnas also won second prize at the ARD-Wettbewerb in Munich in 1986.  He is a founding member of the Stockholm Chamber Brass, and has been serving as professor of trumpet at the Hochschule für Musik, located in Cologne, Germany, since 2001.  He has soloed with numerous orchestras throughout Europe and is an active performer and teacher, frequently performing with such orchestras as the Oslo Philharmonic.
Mr. Charles Schlueter, Years of study: 2004-2010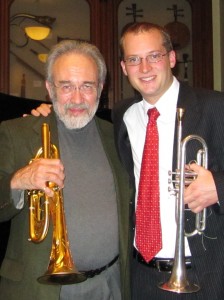 During his distinguished career, Mr. Schlueter has indeed established himself as a legend of the trumpet, both as a teacher and performer.  Serving as principal trumpet of the Boston Symphony Orchestra for 25 years, retiring in 2006, he recorded all the Mahler symphonies, along with countless other symphonies, orchestral suites, and tone poems.  During that time, he also served on the trumpet faculty of New England Conservatory of Music, during which time he taught numerous students who find themselves in major orchestras throughout the world.  Before the Boston Symphony, Mr. Schlueter served in the same capacity with the Minnesota Orchestra, Milwaukee Symphony, and Kansas City, not to mention serving as assistant principal trumpet of the Cleveland Orchestra.  He is a proud student of Mr. William Vacchiano, studying at the Julliard School.
I am honored to be able to say that I was Mr. Schlueter's last official classical trumpet student from New England Conservatory, concluding an historic chapter of the conservatory and am forever thankful to have had the opportunity to learn from such a master.
Mr. Fred Sautter, Years of study: 1995-2004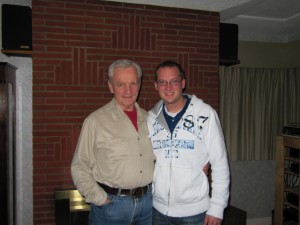 Fred Sautter served as principal trumpet of the Oregon Symphony for 38 years.  Before playing with the Oregon Symphony, he held the same position in the Philharmonic State Orchestra of Hamburg.  He served as professor of trumpet at Portland State University for many years.  Mr. Sautter established himself as a distinguished teacher early in his career, with such pupils as Timothy Morrison and Chris Botti among others.
I owe a lot to my wonderful first teacher, Fred.  I always knew he wanted the best for me, and always believed in me.  Thanks so much for all that you taught me!